"Thanks, I Hate It" is the name of a pretty funny song by pop punk band Simple Creatures, it was also my exact reaction to the news that Spotify is being redesigned. The popular music streaming service is one of my daily essentials, and until now its well-designed homepage and interface were a big part of why I've largely ignored rivals such as Apple Music.
But the service's upcoming new TikTok-inspired look has me wondering if the grass could be a little greener on the other side. Indeed, despite Spotify being a music streaming service, the redesigned homepage seems to be less about highlighting new tracks, artists, and playlists, and more about video content and podcasts. And that makes me consider a change in the near future.
Spotify tries to fix what isn't broken
I would argue that Spotify's homepage redesign is a fundamentally flawed undertaking. The application already has a very well structured interface which is really effective in offering you relevant recommendations. I've lost count of the number of times he's spotlighted an artist I've never even heard of who quickly became a new favorite.
A good example of this is the fact that I've spent most of the past six months listening to Texas artist Dayglow on repeat. And I only discovered the indie-pop singer through a recommendation on Spotify's homepage. This is just one example of how Spotify is currently doing a great job of spotlighting new music.
I also like how easy Spotify's current homepage is to jump into curated playlists. In fact, I've pretty much stopped creating my own custom playlists because after a quick scroll through Spotify's homepage, I'll find half a dozen auto-generated playlists that are always filled with songs that I like. And usually they are also sprinkled with new music that also suits my tastes.
To date, I can only rate the user experience on Spotify as exceptional. This is a big part of why I never even considered canceling my subscription or switching to an alternative service. But based on what we've seen of the new UI, I'm growing worried that this could change very soon.
The new Spotify isn't about music
Spotify's new homepage has more than a hint of TikTok on it. Rows upon rows of recently played artists, recommended playlists and new music to discover, are about to be replaced by a vertically scrolling feed with large-scale maps that will dominate the entire screen. In short, it sounds awful.
Rather than being presented with a whole range of options at once, you'll have to scroll through the cards one at a time. This will surely get tedious pretty quickly. The new feed looks so off-putting that I suspect many users will head to the search bar as their first port of call instead of browsing the homepage. This in turn will greatly limit a user's exposure to new music and many people will instead resort to repeatedly listening to familiar favorites.
Of course, it's important to note that there's no indication that Spotify's recommendation algorithm will change. So, at least in theory, everything I love about the service's ability to constantly surface new relevant artists should still be there. But as noted, the revamp will just make discovering these new artists a more laborious task – hooray!
From the preview we've seen, it looks like podcasts, audiobooks, and video content will also be heavily featured in these cards. It's something that doesn't interest me at all. I receive my podcasts from the dedicated iOS Podcast app, and I'm very happy with this system. In the past year, I can only remember listening to one podcast on Spotify – and that was only because it was exclusive to the platform.
Spotify has invested heavily in podcasts over the past five years, acquiring big shows as exclusives, so naturally it will want to promote those shows to users. And it's worth remembering that podcasts are much easier to monetize than music, prompting the service to overpromote them.
The cynic in me must be wondering if the new homepage will regularly recommend new albums to listen to, or will it instead be used to shout about the new audio show that Spotify just paid thousands of dollars for to make exclusive? Confirmation of an option to prevent podcasts from appearing in the new feed would be greatly appreciated.
Apple Music vs Spotify – will I switch sides?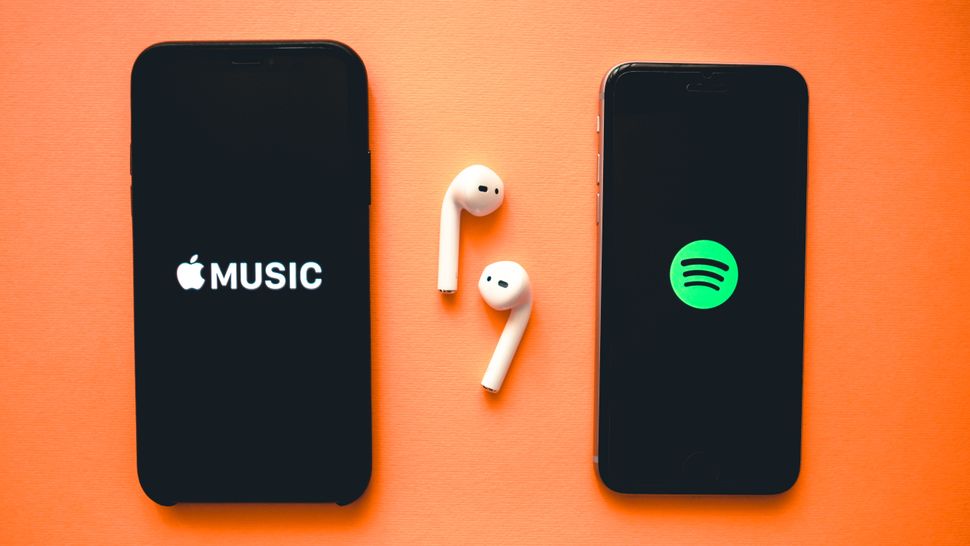 And that's when Apple Music comes into my thinking. THE Apple Music vs. Spotify The debate is one that has raged in Tom's Guide's office many times in the past, and several of my colleagues argue convincingly for Apple's service, but I've always found myself loyally on the green side of the fence.
However, to me, Spotify is all about music, and this redesign seems to take the focus away from that. It's a dangerous game for the service if they want to keep my monthly fee.
Right now, I'm trying to force myself to keep an open mind. After all, the redesign hasn't been fully rolled out yet. There's a (very slim) possibility that it will pleasantly surprise me once I get my hands dirty. However, from what I've seen so far, Spotify's previously ultra-secure position in my streaming portfolio is starting to look a bit precarious, and its loss could ultimately be Apple Music's gain.